Erin and Bucky are featured in this wonderful 4 page article in The Chronicle!! Please take the time to read the entire article, as it gives such insight into their road to success. Congratulations are due to Erin, Bucky and her entire support network at Lilybridge Eventing, who have had such a huge impact on her career!!!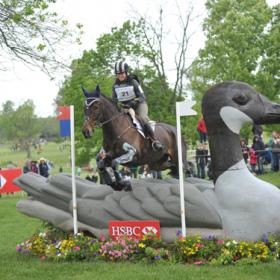 Sylvester, 27, grew up in Hingham, Mass., a suburb of Boston. From an early age, she was horse crazy. Her parents put her on a horse at age 2, and by 4 she was in riding lessons. Her family lived just a few miles away from eventer Elizabeth Iorio, and the then-15-year-old agreed to teach Sylvester. "I can't imagine how she did it and how she kept my focus. I must have been like a little bouncing ball," Sylvester said. From there, she joined the North River Pony Club, eventually earning her C-2 rating.
After 11 years of lessons and moving up the levels, Sylvester bought her first serious event horse, Wily Wizard, who had been Iorio's three-star horse. She took him through the intermediate level before he was retired to the lower levels in 2003. "He tried his heart out. He knew the sport so well that if I made a mistake, he'd run out or stop. Otherwise, he was a very honest horse and really allowed me to learn what I needed to do at bigger fences and combinations," she said. While the gelding incurred some injuries over their three years together, he proved to be a valuable partner. "In retrospect, I wish I knew a little bit more when I had him. I was a bit green about dealing with conditioning and soundness. That kind of thing comes with experience I think. Soundness with horses is sort of trial and error," Sylvester said.
Location, Location, Location
When it came time to choose a college her senior year of high school, Sylvester's only criteria was that it was near a top trainer. While she'd never worked with him, Phillip Dutton was first on her list, so she applied and got in early to the University of Delaware, which was within commuting distance to Dutton's True Prospect Farm in West Grove, Pa. While she was positive she wanted to ride throughout college and become a professional, she was a bit shocked when she got to Dutton's and realized her skills were lacking.
"I guess I was taking a chance because I didn't know if I would get on with him as a student, and I think at times I drove him pretty crazy because at that point in his career, and still now, he spends most of his time teaching intermediate and advanced riders that have their own programs," she said. "He sees talent and potential in them to be really great riders, and I was, for lack of a better word, a bit of a hooligan. I didn't have any concept of counting strides in between fences or seeing a distance. I knew how to sit up and kick and hold on and get stuff done. I was lucky to be on catty horses until I got there. It was definitely a work in progress for him when he first started working with me, just having the patience to [teach me] some really basic things that I should have known before I got there and that I'd kind of gotten away with not understanding."
PLEASE READ THE ENTIRE CHRONICLE ARTICLE HERE!!